Japanese food Sushi T-shirt from JAPAN
Japanese food Sushi T-shirt from JAPAN
Japanese food Sushi T-shirt from JAPAN
Japanese sushi T-shirt
This T-shirt can be worn by men or women
and the material is 100% cotton so comfortable to be worn.
Delicious sushi T-shirt.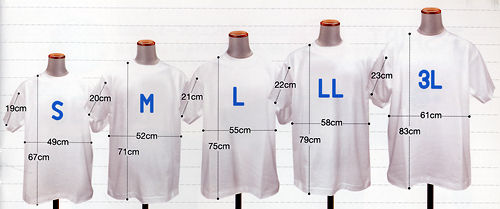 Name of the sushi is displayed in Japanese and English.
Shrimp. = Ebi.
Herring roe. = Kazunoko.
Red tuna. = Akami maguro.
Salmon roe. = Ikura.
Egg. = Tamago.
Fatty tuna. = Toro.
Red snapper. = Tai.
Cucumbaer roll. = Kappamaki.
Salmon. = Salmon.
Octpus. = Tako.
Sea urchin. = Uni.
Soy sauce. = Murasaki.
Chopsticks. = Otemoto.
Hot green tea. = Agari.
Silver prize was awarded Sushi T-shirt in the attractive souvenirs of Japan Contest 2008 sponsored by Ministry of Land, Infrastructure, Transport and Tourism.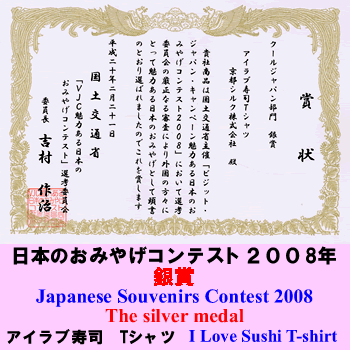 The Sushi T-shirt, Smash Hit in Honolulu Marathon.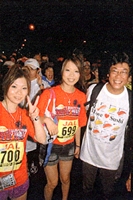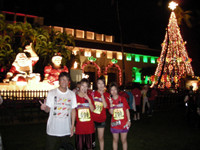 The student trying to obtain MBA also loves the Sushi T-shirt.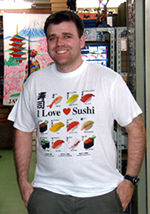 Message from Philippe Candeloro and Brian Joubert, French figure skaters

=============================================================
We have many Japanese cultural gifts , new Japanese gifts and Japanese souvenirs.
Lets say you have no time to buy a souvenir when you visit Japan.
Want to give that special someone something to remember
while you are studying in Japan?
Bring Japan to your home without ever coming to the Pacific
Kyoto Silk Co., LTD is the best choice for all things Japanese.
Through the Internet shopping channel,
we provide all kinds of Japanese souvenirs and Japanese traditional goods
to people all around the world.
About the shipment of the item, there are 3 following methods.
1.EMS
2.International e-packet
3.International e-packet light.
You can confirm it from this about the shipping according to the area according to the weight.
⇒
Click